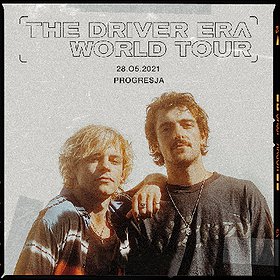 Tickets for Pop / Rock
The Driver Era
date
Wed, 26 October 2022 time 20:00
venue
Progresja
Fort Wola 22

,

01-258

Warszawa
promotor
Tickets
---
Standard
Standard
available to
Fri, 01 nov 2019 10:24
69 PLN
Sold out
---
Standard
Standard
available to
Thu, 09 jan 2020 16:57
79 PLN
Sold out
---
Standard
Standard
available to
Mon, 16 mar 2020 14:39
89 PLN
Sold out
---
Standard
Standard
available to
Thu, 26 mar 2020 14:22
99 PLN
Sold out
---
The Driver Era w Polsce! NOWA DATA!
The Driver Era
Drzwi: 19:00
Start: 20:00
The Driver Era w Polsce! Znany amerykański zespół - występujący wcześniej jako R5 - wystąpi w Progresji. Bracia porównywani są do takich zespołów jak The Vamps, One Direction czy 5 Seconds of Summer.
The Driver Era to niezwykle popularny duet, który tworzy dwóch braci - Rocky i Ross Lynch. W 2018 roku zmienili nazwę pod którą tworzą i grają głównie rock alternatywny oraz pop rock.
1 marca 2018 roku social media R5 zostały zmienione na The Driver Era, a wszystkie posty zostały usunięte. Wywołało to duże zamieszanie wśród wiernych fanów zespołu, natomiast już 2 marca okazało się, że zespół zacznie występować pod nową nazwą w okrojonym składzie - duecie braci Lynch. Tego samego dnia światło dzienne ujrzał też ich debiutancki singiel - "Preacher Man", który od tamtego czasu zebrał już ponad 3 miliony wyświetleń na YouTube.
Zamów bilety już teraz na Biletomat.pl
Looking for similar events elsewhere? Check out the:
---