Be Kolektiv oraz raveorder.pl zapraszają wszystkich fanów undergroundowej muzyki elektronicznej do kompleksu XIX wiecznego Zamek von Treskov w Strykowie k. Poznania, gdzie w dniach od 13 do 15 lipca odbędzie się IV edycja Kaskada Festival.
9 ha park, w którym zlokalizowany jest zamek, oraz sąsiedztwo jeziora Strykowskiego stanowią doskonałą scenerię do letniego wypoczynku oraz eksploracje starannie wyselekcjonowanej muzyki house, techno, IDM i ambient.
W ciągu dnia zmęczeni całonocną zabawą festiwalowicze będą mogli zrelaksować się nad jeziorem oraz wziąć udział w warsztatach, panelach i animacjach przygotowanych przez organizatorów.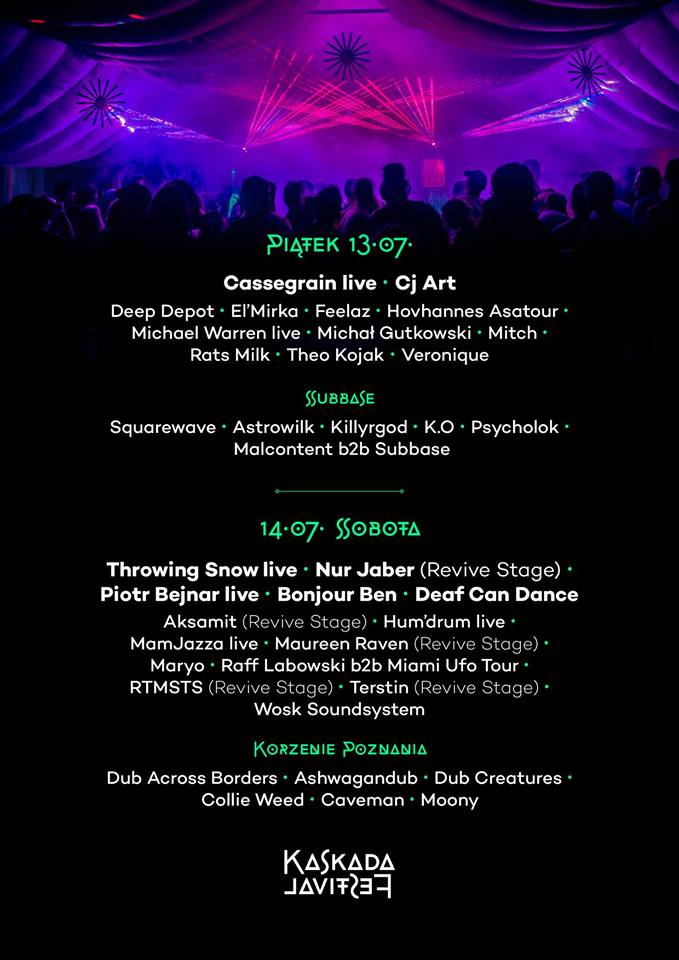 HOTEL:
Możliwość noclegu w zamku von Treskow, pokoje w cenie od 120 - 140 PLN/dobę za osobę ze śniadaniem (bez biletu wstępu na festiwal).
Rezerwacje:
e-mail: kaskadafestival@gmail.com
telefon: 600 980 241 (Ola)
Więcej informacji:
www.kaskadafestival.pl
ENG
Be Kolektiv and Polish Rave Order would like to invite all fans of underground electronic music to XIX century Von Treskow castle in Strykowo (near Poznan) where from 13th till 15th of July the IV edition of Kaskada Festival will take its place.
Castle is located in 9 hectares park, surrounded by Strykowskie lake – that combination creates perfect scenery for summer chillout and invites you to explore the finest selection of house, techno, IDM and ambient music.
If you feel tired after all-night party you may relax by the lake or take part in workshops, panels and other activities available during the day.
HOTEL:
Possible accommodation in the castle von Treskow hotel rooms, price range: 120 - 140 PLN/ per person for a night with breakfast (festival entry ticket is not included).
Reservations:
e-mail: kaskadafestival@gmail.com
mobile: 600 980 241 (Ola)
More info:
www.kaskadafestival.pl
Zamów bilety już teraz na Biletomat.pl