[English version below]
Klub Ciało i kolektyw HeartBeats zapraszają na pierwszą edycję festiwalu Silberberg, który odbędzie się 28 i 29 czerwca w największej twierdzy górskiej w Europie.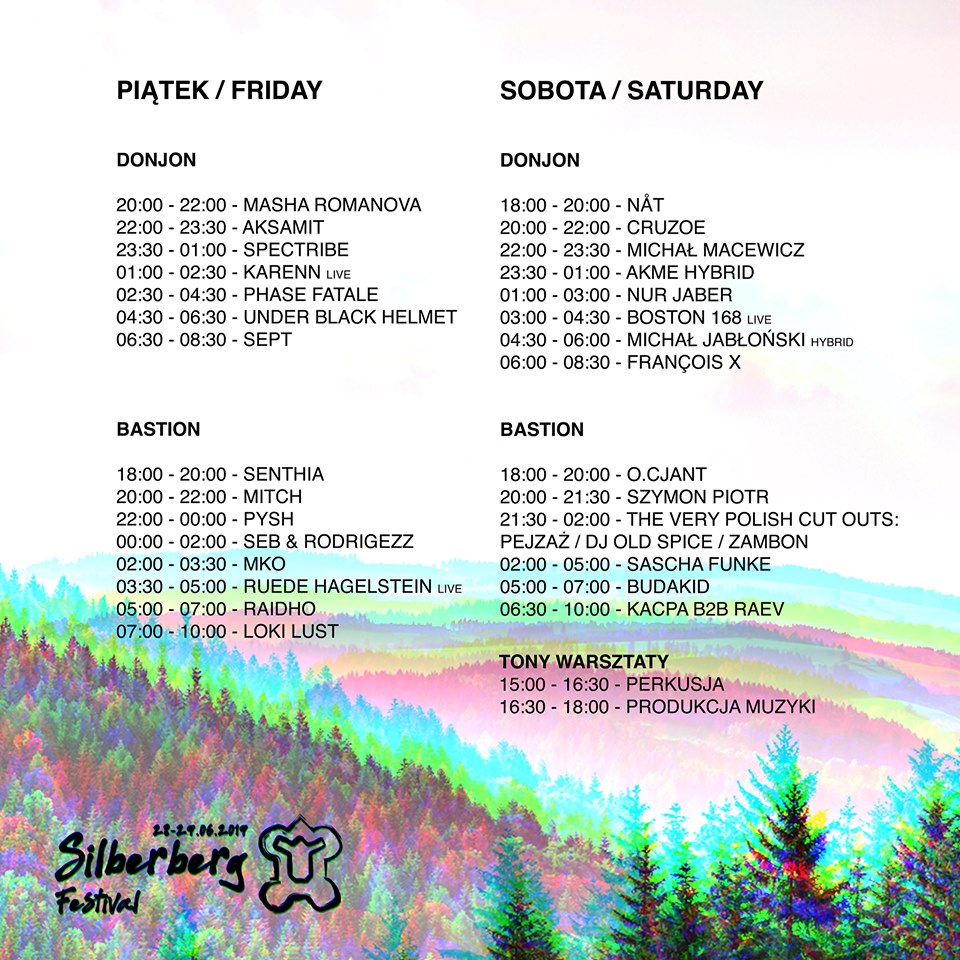 XVIII wieczna Twierdza Srebrna Góra (niem. Silberberg) góruje nad wyjątkowo urokliwą wsią o tej samej nazwie, położonej na granicy Gór Sowich i Bardzkich. Trzon budowli tworzony jest przez zespół bastionów, z których rozciąga się widok na całą dolinę, zaś w jego środku znajdziemy okazały dziedziniec, będący główną sceną festiwalu. Widoki ze szczytu w połączeniu z dwiema scenami przepełnionymi muzyką, to obowiązkowa pozycja w ostatni czerwcowy weekend.
Do dyspozycji festiwalowiczów oddajemy cały fort wraz z polem namiotowym, strefami chillu, gastronomią, obiektami sanitarnymi i w pełni wyposażonymi barami. W line upie, który sukcesywnie będziemy ujawniać, zobaczycie kilkunastu zagranicznych headlinerów i czołówkę rodzimej sceny. Skupiamy się na elektronice 4x4 z naciskiem na techno.
FACEBOOK: facebook.com/silberbergfest
https://www.facebook.com/events/267082854190280/
https://www.residentadvisor.net/events/1231946
INSTAGRAM: instagram.com/silberbergfest
Ciało Club and HeartBeats collective invite you to the first edition of the Silberberg festival, which will take place on June 28 and 29 in the largest mountain fortress in Europe.
The 18th century Silver Mountain Fortress (German: Silberberg) towers over the exceptionally charming village of the same name, located on the border of the Sowie and Bardzkie Mountains. The core of the building is created by a group of bastions, from which there is a view of the entire valley, and in its center we find a magnificent courtyard, which is the main stage of the festival. We offer the entire fort along with a camping site, chill zones, gastronomy, sanitary facilities and fully equipped bars. In the lineup, which we will gradually reveal, you will see over a dozen of foreign headliners and the forefront of the home scene. We focus on 4x4 electronics with an emphasis on techno.
Zamów bilety już teraz na Biletomat.pl