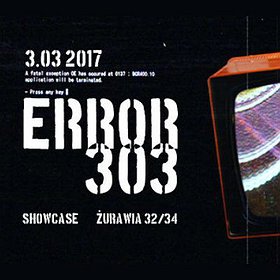 Tickets for event
ERROR 303 with Dave The Drummer
date
Fri, 03 March 2017 time 23:00
venue
Showcase Club
Ul. Żurawia 32/34 , 00-515 Warszawa
promotor
Tickets
Używasz Adblocka lub innej wtyczki mogącej blokować złożenie zamówienia. Jeśli napotkasz problemy wyłącz wtyczkę dla prawidłowej realizacji zamówienia.
---
Standard
Standard
available to
Fri, 03 mar 2017 19:00
25 PLN
Sold out
---
ERROR 303 with Dave The Drummer w Warszawie!
D.A.V.E. The Drummer (Hydraulix Records / Stay Up Forever Collective) London, UK
support by Warsaw Mechanism
Black.Art | Insect | Rust | Whiz Kid aka Kobe
W najkwaśniejszą datę tego roku Warsaw Mechanism zaprasza postać, która ostatni raz odwiedziła nasze miasto podczas naszych II urodzin w listopadzie 2011 roku. Ponad 5 lat, to zdecydowanie za długo, więc bez zbędnych ceregieli - przed Wami D.A.V.E. the drummer, który zagra 2 godzinnego seta, zaczynając w nowym, pompującym stylu i na klasycznym acid techno kończąc.
Zamów bilety już teraz na Biletomat.pl!
---