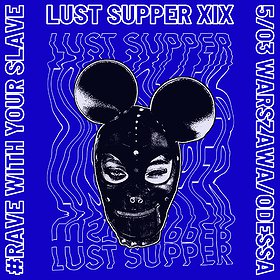 Tickets for event
Lust Supper XIX - #RaveWithYourSlave
date
Sat, 05 March 2022 time 22:00
venue
Odessa
ul. Kolejowa 8/10, 01-210 Warszawa
promotor
Tickets
---
Standard
I pula
available to
Sun, 06 feb 2022 23:59
60 PLN
Sold out
---
Standard
II pula
available to
Tue, 22 feb 2022 23:59
80 PLN
Sold out
---
Standard
III pula
available to
Fri, 04 mar 2022 23:59
100 PLN
Sold out
---
Kup bilet na Lust Supper XIX - #RaveWithYourSlave 5 marca w Warszawie!
Pamiętaj - na Biletomat.pl Twoje zakupy są bezpieczne. Jeśli dojdzie do zmiany daty lub odwołania wydarzenia, będziesz mógł spokojnie uzyskać zwrot, a o wszelkich aktualizacjach poinformujemy Cię mailowo.
***
Dochodzą nas słuchy, że podobało się na #BiteMeHard, że nowy klub zajebisty, a dark room z lustrem weneckim to już w ogóle petarda. No to wracamy – już 5 marca #RaveWithYourSlave!
✚✚✚✚✚✚✚✚✚✚✚✚✚✚✚✚✚✚✚✚✚✚✚✚
✚✚✚✚✚✚✚✚✚✚✚✚✚✚✚✚✚✚✚✚✚✚✚✚
⛓ DJS ⛓
BEXA // soundcloud.com/bexamusic
Aerniax // soundcloud.com/aerniax
Reverie // www.facebook.com/reverietch
hannya // soundcloud.com/hannakoczewska
SEXISDEATH // soundcloud.com/sexisdeath
Zamów bilety już teraz na Biletomat.pl!
---