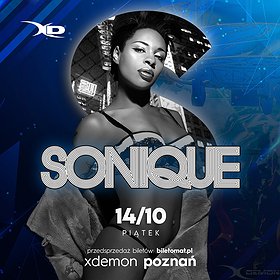 Tickets for event
SONIQUE w X-Demon Poznań // "Sky", "It Feel So Good", "Alive"
date
Fri, 14 October 2022 time 22:00
venue
X-Demon Poznań
Ignacego Paderewskiego 10, 61-740 Poznań
promotor
Kup bilety na Sonique 14 października w Poznaniu!
SONIQUE
Pamiętaj - na Biletomat.pl Twoje zakupy są bezpieczne. Jeśli dojdzie do zmiany daty lub odwołania wydarzenia, będziesz mógł spokojnie uzyskać zwrot, a o wszelkich aktualizacjach poinformujemy Cię mailowo.
***
Żywa legenda!!! Jej "SKY" czy "It Feel So Good" to miliony odtworzeń i masa wspomnień. Tylko u nas na żywo: SONIQUE 🔥
XD - This is You World
➡️ DRESS CODE:Just be XD!
SMART CASUAL
➡️ RESERVATIONS:
➡️ GUEST:
Szanowni Goście, w XD przywiązujemy dużą wagę do kreowania odpowiedniej atmosfery, dlatego bardzo dbamy o selekcję na wejściu, która obowiązuje w przypadku każdej rezerwacji / wstępu.
Zamów bilety już teraz na Biletomat.pl!
---