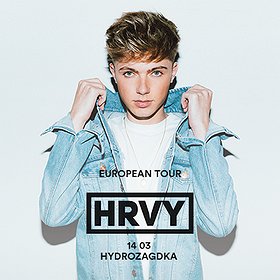 Tickets for Concert
HRVY
date
Thu, 14 March 2019 time 20:00
venue
Hydrozagadka
11 listopada 22, Warszawa
promotor
Tickets
---
Standard
I PULA
available to
Fri, 21 dec 2018 14:43
79 PLN
Sold out
---
Standard
II PULA
available to
Tue, 26 feb 2019 13:10
89 PLN
Sold out
---
Standard
III PULA
available to
Thu, 14 mar 2019 14:48
99 PLN
Sold out
---
HRVY w warszawskiej Hydrozagadce!
HRVY
Drzwi: 19:00
Koncert: 20:00
HRVY, a tak naprawdę Harvey Leigh Cantwell, to brytyjski wokalista i prezenter telewizyjny.
Zaczynał od wrzucania na YouTube coverów ZAYN czy The Weeknd, a obecnie jest wschodzącą gwiazdą pop'u. W 2013 roku ukazał się jego pierwszy singiel zatytułowany "Thank You", który był wielkim hitem. Od tamtej pory na swoim koncie zgromadził 2 EP-ki - "Holiday" i "Talk To Ya" oraz prowadził program BBC "Friday Download".
Do Warszawy HRVY przyjedzie w ramach europejskiej trasy koncertowej.
Zamów bilety już teraz na Biletomat.pl
Looking for similar events elsewhere? Check out the: Bilety Kolekcjonerskie
---