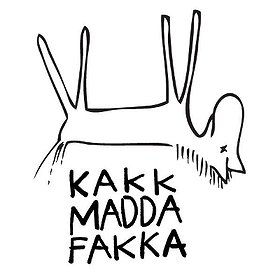 Tickets for Concert
Kakkmaddafakka
date
Thu, 04 April 2019 time 19:00
venue
Klub Hydrozagadka
11 listopada 22, 03-436 Warszawa
promotor
Tickets
---
Standard
I PULA
available to
Thu, 04 apr 2019 16:00
59 PLN
Sold out
---
Kakkmaddafakka w Warszawie!
Kakkmaddafakka
Norweski zespół o pogmatwanej nazwie i brzmieniu - KAKKMADDAFFAKA po raz pierwszy zagra w Polsce. Grupa, która wydała dotychczas 4 albumy i współpracowała m. in. z Erlendem Øye, znana jest ze spektakularnych koncertów. KAKK wystąpią 4 kwietnia w warszawskiej Hydrozagadce.
-----
Norwegian band with confusing name and sound - KAKKMADDAFAKKA will finally come to Poland. The group has already released 4 records and co-operate with Erlend Øye among the others and is known from their spectacular live show. KAKK will perform on Apr 4 at Hydrozagadka in Warsaw.
Zamów bilety już teraz na Biletomat.pl!
Looking for similar events elsewhere? Check out the: Bilety Kolekcjonerskie
---