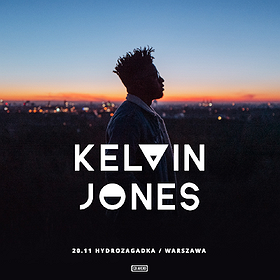 Tickets for Concert
Kelvin Jones
date
Wed, 20 November 2019 time 20:00
venue
Klub Hydrozagadka
11 listopada 22, 03-436 Warszawa
promotor
Tickets
---
---
Standard
II PULA
Pool available since
Wed, 20 nov 2019 00:00
70 PLN
Buy ticket
---
Kelvin Jones: 20.11.2019 Warszawa, Hydrozagadka
Kelvin Jones

19:00 – wejście | 20:00 – start koncertu
Agencja Go Ahead zaprasza na koncert Kelvina Jones'a. Muzyk znany jako support Alvaro Solera wytąpi 20 listopada w Warszawie!
Kelvin Jones to 24-letni muzyk pochodzący z Zimbabwe. Do tej pory wydał jedną płytę – "Stop The Moment", która ukazała się w 2015 roku. Jego najbardziej znany utwór – "Call You Home" ma już ponad milion wyświetleń w serwisie Youtube. Podczas swojej kariery grał jako support X Ambassadors, obecnie koncertuje z Alvaro Solerem podczas jego europejskiej trasy.
Zamów bilety już teraz na Biletomat.pl!
Looking for similar events elsewhere? Check out the: Bilety Kolekcjonerskie Bilety na koncerty GO AHEAD!
---