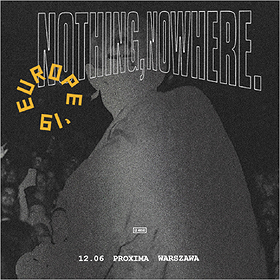 Tickets for Concert
nothing,nowhere.
date
Wed, 12 June 2019 time 20:00
venue
Proxima
Żwirki i Wigury 99a, 02-089 Warszawa
promotor
Tickets
---
---
Standard
II PULA
Pool available since
Wed, 12 jun 2019 00:00
90 PLN
Buy ticket
---
Nothing,nowhere:12.06.2019 Warszawa, Proxima
nothing,nowhere.

19:00 – wejście | 20:00 – start koncertu
Agencja Go Ahead zaprasza na koncert nothing,nowhere. już 12 czerwca w Warszawie. Muzyk wraca do naszego kraju po wyprzedanym koncercie w listopadzie.
nothing,nowhere. znajdziecie tworzącego w samotności - gdzieś w zagraconej piwnicy w Vermont. To w tym podziemiu aspołeczny chłopak postanowił w ironiczny sposób dotrzeć ze swoją twórczością nie tylko do reszty kraju, ale też świata. Od czasu rozpoczęcia jego artystycznej działalności (kwiecień 2015) osiągnął ponad milion odtworzeń na platformie SoundCloud w przeciągu dziesięciu miesięcy i znalazł swoje miejsce w sieci. Jego muzyka to emo spotykające trap i szarpiące serce gitarowe riffy. Zapomnijcie jednak o gatunkach – to po prostu nothing,nowhere.
Zamów bilety juz teraz na Biletomat.pl
Looking for similar events elsewhere? Check out the: Bilety Kolekcjonerskie
---