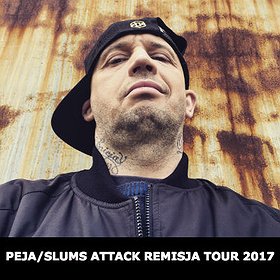 Tickets for Concert
PEJA/SLUMS ATTACK REMISJA TOUR 2017
date
Sat, 13 May 2017 time 20:00
venue
Klub Bilardowy Ósemka & Club 10 Kręgielnia
Parkowa 6, 38-300 Gorlice
promotor
Tickets
Używasz Adblocka lub innej wtyczki mogącej blokować złożenie zamówienia. Jeśli napotkasz problemy wyłącz wtyczkę dla prawidłowej realizacji zamówienia.
---
Standard
I pula
available to
Fri, 12 may 2017 23:59
30 PLN
Sold out
---
Standard
II pula
available to
Sat, 13 may 2017 16:00
35 PLN
Sold out
---
PEJA/SLUMS ATTACK REMISJA TOUR 2017 - Gorlice
PEJA
Serdecznie zapraszamy na premierowy koncert Peja Slums Attack w ramach trasy Remisja Tour 2017
Zamów bilety już teraz na Biletomat.pl!
Looking for similar events elsewhere? Check out the: Promocja Walentynkowa 2017
---