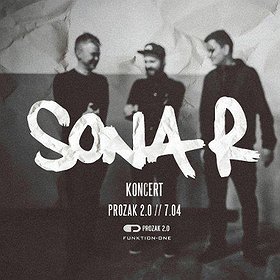 Tickets for Concert
Sonar
date
Sat, 07 April 2018 time 20:00
venue
Prozak 2.0
pl. Dominikański 6, 31-043 Kraków
promotor
Tickets
---
Standard
I PULA
available to
Fri, 06 apr 2018 23:59
25 PLN
Sold out
---
Standard
II PULA
available to
Sat, 07 apr 2018 17:00
30 PLN
Sold out
---
Sonar z nowym materiałem w Krakowie
SONAR:
Łukasz Stachurko
Lena Osińska
Rafał Dutkiewicz
Artur Bogusławski
Ponad rok po premierze debiutanckiego albumu Sonar powraca z nową płytą! Zespół na nowym wydawnictwie serwuje słuchaczom dźwięki wprost ze słonecznego Turynu!
SONAR to projekt Łukasza Stachurko (Sonar Soul), który współtworzył m.in. duet RYSY. W zespole jedyną wokalistką jest Lena Osińska (znana z The Voice of Poland), a na scenie zobaczyć można również perkusistę Rafała Dutkiewicza (grywającego ze Skalpelem, Mariką i P.Unity) oraz doświadczonego pianistę Artura Bogusławskiego.
https://www.youtube.com/watch?v=L5xqvuiaeWs
https://www.youtube.com/watch?v=zWHES1RrHgo
Zamów bilety już teraz na Biletomat.pl!
Looking for similar events elsewhere? Check out the: Bilety Kolekcjonerskie
---