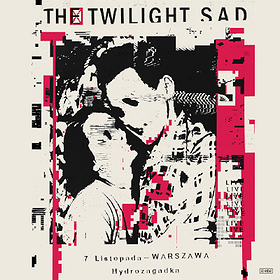 Tickets for Concert
The Twilight Sad
date
Thu, 07 November 2019 time 20:00
venue
Hydrozagadka
ul. 11 listopada 22, 03-436 Warszawa
promotor
Tickets
Używasz Adblocka lub innej wtyczki mogącej blokować złożenie zamówienia. Jeśli napotkasz problemy wyłącz wtyczkę dla prawidłowej realizacji zamówienia.
---
Standard
I PULA
available to
Wed, 12 jun 2019 09:38
69 PLN
Sold out
---
The Twilight Sad: 7.11.2019 Warszawa, Hydrozagadka
The Twilight Sad

19:00 – wejście | 20:00 – start koncertu
Zapraszamy na koncert The Twilight Sad w Polsce! Szkocka grupa wystąpi 7 listopada w Hydrozagadce!
Ich debiutancki album, "Fourteen Autumns & Fifteen Winters" ukazał się w 2007 roku. Od tego czasu, zespół wydał jeszcze 4 płyty i sporo koncertował. W swojej karierze występowali przed takimi zespołami jak The Cure, The Smashing Pumpkins, Snow Patrol czy Beirut.
Do Polski zespół przyjedzie promować swoje najnowsze wydawnictwo – "It Won/t Be Like This All the Time", które ukazało się w styczniu tego roku.
Zamów bilety już teraz na Biletomat.pl!
Looking for similar events elsewhere? Check out the: Bilety Kolekcjonerskie Bilety na koncerty GO AHEAD!
---