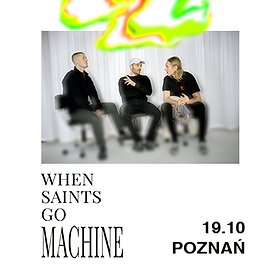 Tickets for Concert
When Saints Go Machine - Poznań
date
Sat, 19 October 2019 time 21:00
venue
Projekt LAB
Grochowe Łąki 5, 61-752 Poznań
promotor
Tickets
Używasz Adblocka lub innej wtyczki mogącej blokować złożenie zamówienia. Jeśli napotkasz problemy wyłącz wtyczkę dla prawidłowej realizacji zamówienia.
---
Standard
Standard
available to
Fri, 18 oct 2019 17:25
49 PLN
Sold out
---
When Saints Go Machine / 19.10.2019 / Poznań
When Saints Go Machine

Doors: 19:00
Support: 20:00
Start: 21:00

When Saints Go Machine to duński zespół, których muzyka określana jest mianem electro-popu.
W skład grupy, która powstała w Kopenhadze, wchodzą perkusista Silas oraz wokaliści Nikolaj i Jonas, który dodatkowo odpowiedzialny jest za syntezatory. W 2008 roku wygrali konkurs talentów w duńskiej stacji radiowej, a już dwa lata później otwierali Festiwal Roskilde. Najpopularniejszymi utworami zespołu są "Fail Forever", "Kelly", "You or The Gang" czy "Kids on Vacation".
Zamów bilety już teraz na Biletomat.pl
Looking for similar events elsewhere? Check out the: Bilety Kolekcjonerskie Bilety na koncerty When Saints Go Machine!
---