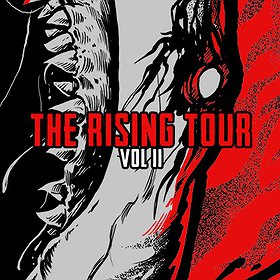 Tickets for Hard Rock / Metal
Materia | The Rising Tour Vol II | Koszalin
date
Sat, 28 March 2020 time 19:00
venue
Centrum Kultury 105
Zwycięstwa 105, 75-001 Koszalin
promotor
Tickets
Używasz Adblocka lub innej wtyczki mogącej blokować złożenie zamówienia. Jeśli napotkasz problemy wyłącz wtyczkę dla prawidłowej realizacji zamówienia.
---
Standard
I PULA
available to
Fri, 13 mar 2020 09:45
25 PLN
Sold out
---
The Rising Tour Vol II! KONCERT ODWOŁANY!
Materia, Scylla, Mentally Blind
Drzwi - 19:00
"The Rising Tour Vol II" czyli wiosenna odsłona trasy promującej ostatnie wydawnictwo rockowo-metalowej formacji ze Szczecinka.
Premiera albumu odbyła się podczas VIII edycji Materiafest w Szczecinku, płyta zebrała świetne recenzje, została doceniona przez legendarny amerekański portal Metal Injection. Redaktor muzyczny portalu Riley Rowe umieścił "The Rising" wśród najlepszych albumów metalowych 2019 roku.
Zamów bilety już teraz na Biletomat.pl
Looking for similar events elsewhere? Check out the: Bilety Kolekcjonerskie Bilety na koncerty Materii! Wydarzenia Odwołane
---