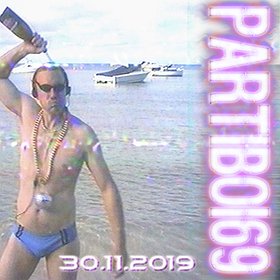 Tickets for clubbing
Partiboi69 in Warsaw / Iskra
date
Sat, 30 November 2019 time 23:00
venue
Iskra Pole Mokotowskie
Wawelska 5, 02-034 Warszawa
promotor
Tickets
Używasz Adblocka lub innej wtyczki mogącej blokować złożenie zamówienia. Jeśli napotkasz problemy wyłącz wtyczkę dla prawidłowej realizacji zamówienia.
---
Standard
I pula
available to
Tue, 29 oct 2019 10:59
30 PLN
Sold out
---
Standard
II pula
available to
Mon, 25 nov 2019 09:43
35 PLN
Sold out
---
Kolekcjonerski
III pula
available to
Sat, 30 nov 2019 16:00
60 PLN
Sold out
---
Partiboi69 in Warsaw / Iskra
Partiboi69
Partiboi69, który jest królem australijskiego podziemia muzyki elektronicznej odwiedzi Warszawę w ramach swojej europejskiej trasy. Dj, który ma wiernych wyznawców na całym świecie, uraczy nas dawką ghetto house, elektroniki i techno, a oprócz tego- klasycznie- zaskoczy wszystkich swoim szalonym wcieleniem.
*Bilet kolekcjonerski do odbioru na bramce.
Zamów bilety już teraz na Biletomat.pl
Looking for similar events elsewhere? Check out the: Bilety Kolekcjonerskie Bilety na koncerty Partiboi69
---