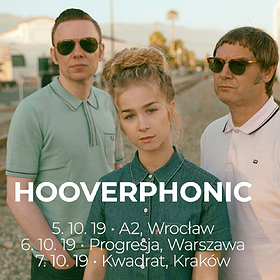 Tickets for Pop / Rock
Hooverphonic - Wrocław
date
Sat, 05 October 2019 time 19:00
venue
Centrum Koncertowe A2
ul. Góralska 5, Wrocław
promotor
Tickets
Używasz Adblocka lub innej wtyczki mogącej blokować złożenie zamówienia. Jeśli napotkasz problemy wyłącz wtyczkę dla prawidłowej realizacji zamówienia.
---
Standard
Standard
available to
Sat, 05 oct 2019 16:00
105 PLN
Sold out
---
Hooverphonic we Wrocławiu!
Hooverphonic
Otwarcie drzwi 19:00
Hooverphonic - belgijska ikona trip hopu, słynąca z zachwycających występów na żywo, przyjedzie do Polski! Twórcy hitów "Mad About You", "2 Wicky", czy "Eden" wystąpią 5.10 w A2 we Wrocławiu, 6.10 w Progresji w Warszawie a 7.10 w krakowskim Kwadracie.
Belgian trip hop icon Hooverphonic is coming to Poland to bring their newest record "Looking For Stars" and the biggest hits! Authors of "Mad About You", "2 Wicky", or "Eden" will perform on October 5th at A2 in Wroclaw, 6th at Progresja in Warsaw and 7th at Kwadrat in Kraków.
Zamów bilety już teraz na Biletomat.pl!
Looking for similar events elsewhere? Check out the: Bilety Kolekcjonerskie Bilety na koncerty Hooverphonic
---