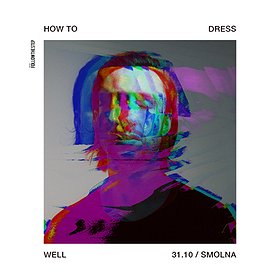 Tickets for Pop / Rock
How To Dress Well
date
Wed, 31 October 2018 time 21:00
venue
Smolna
ul. Smolna 38, 00-375 Warszawa
promotor
Tickets
---
Standard
Standard
available to
Mon, 29 oct 2018 23:59
35 PLN
Sold out
---
Standard
Standard
available to
Wed, 31 oct 2018 17:00
45 PLN
Sold out
---
How To Dress Well na Smolnej!
How To Dress Well
OTWARCIE BRAM: 20:00, START KONCERTU: 21:00
How To Dress Well to sceniczny pseudonim Tom'a Krell'a - amerykańskiego wokalisty i autora tekstów. Jego muzyka określana jest jako ambient, alternatywne R&B czy elektroniczny pop.
Przygodę z muzyką Tom zaczął w 2009 roku, kiedy publikował EP-ki na swoim blogu. Rok później wydał debiutancką płytę "Love Remains", której zapowiedzią był singiel "Ready for the World". Od tamtej pory How To Dress Well zgromadził na swoim koncie kilka albumów studyjnych, a na koniec października 2018 roku planuje wydanie kolejnej płyty - zatytułowanej "The Anteroom".
Zamów bilety już teraz na Biletomat.pl!
Looking for similar events elsewhere? Check out the:
---