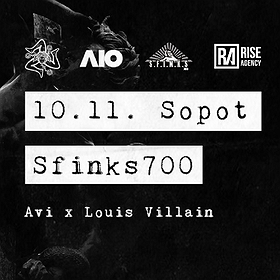 Tickets for Hip Hop / Reggae
Avi x Louis Villain
date
Sun, 10 November 2019 time 19:30
venue
Sfinks700
Al. Franciszka Mamuszki 1, Sopot
promotor
Tickets
Używasz Adblocka lub innej wtyczki mogącej blokować złożenie zamówienia. Jeśli napotkasz problemy wyłącz wtyczkę dla prawidłowej realizacji zamówienia.
---
Standard
I PULA
available to
Mon, 30 sep 2019 13:03
30 PLN
Sold out
---
Standard
II PULA
available to
Sun, 10 nov 2019 16:00
35 PLN
Sold out
---
Avi x Louis Villain w Sopocie!
Avi, Louis Villain

Avi i Louis Villain oraz Agencja AIO i RISE Agency zapraszają na koncertową premierę "Spisu Dzieł Sycylijskich" w Sopocie.
Zamów bilety już teraz na Biletomat.pl
Looking for similar events elsewhere? Check out the: Bilety Kolekcjonerskie
---