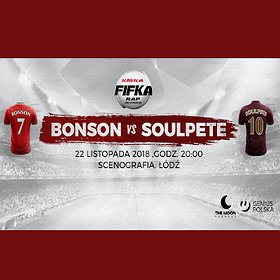 Tickets for Hip Hop / Reggae
BonSoul / Lepiej Nie Będzie Tour - Łódź - 22.11
date
Thu, 22 November 2018 time 20:00
venue
Klub Scenografia
Zachodnia 81/83, 90-402 Łódź
promotor
Tickets
Używasz Adblocka lub innej wtyczki mogącej blokować złożenie zamówienia. Jeśli napotkasz problemy wyłącz wtyczkę dla prawidłowej realizacji zamówienia.
---
Standard
Standard
available to
Tue, 20 nov 2018 12:23
25 PLN
Sold out
---
BonSoul koncert premierowy w Scenografii
Bonson, Soulpete
Agencja The Moon oraz Scenografia zapraszają serdecznie na koncert premierowy zespołu BonSoul
#Lepiejniebędzietour
INFO :
DATA / START : 22.11.2018 20.00
MIEJSCE : Scenografia Zachodnia 81/83
SUPPORT : INFO WKRÓTCE
Zamów bilety już teraz na Biletomat.pl!
---