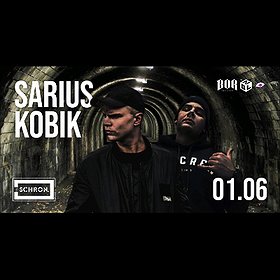 Tickets for Concert
Rap Schron: Sarius / Kobik
date
Fri, 01 June 2018 time 19:00
venue
Schron
Kościuszki 68, 61-818 Poznań
promotor
Tickets
Używasz Adblocka lub innej wtyczki mogącej blokować złożenie zamówienia. Jeśli napotkasz problemy wyłącz wtyczkę dla prawidłowej realizacji zamówienia.
---
Standard
I PULA
available to
Wed, 30 may 2018 15:48
30 PLN
Sold out
---
Standard
II PULA
available to
Fri, 01 jun 2018 16:00
35 PLN
Sold out
---
Rap Schron: Sarius / Kobik
Sarius
Kobik One
Babinci (Nowy Label/ Poznań)
ATYPIA (C-zet + Wrona aka Wu/ Poznań)
+ konkurs na support
Pierwszy raz, Rap w Schronie.
Line up:
Sarius
Kobik One
Babinci (Nowy Label/ Poznań)
ATYPIA (C-zet + Wrona aka Wu/ Poznań)
+ konkurs na support
Patronat:
poznanskirap.com / Jacek Adamkiewicz
Zamów bilety już teraz na Biletomat.pl
---