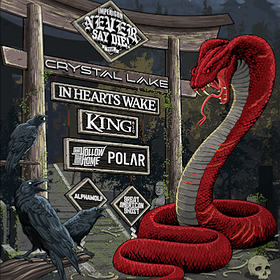 Tickets for Hard Rock / Metal
IMPERICON NEVER SAY DIE! TOUR 2019
date
Sat, 16 November 2019 time 17:30
venue
Pralnia
Krakowska 100, 50-427 Wrocław
promotor
Tickets
Używasz Adblocka lub innej wtyczki mogącej blokować złożenie zamówienia. Jeśli napotkasz problemy wyłącz wtyczkę dla prawidłowej realizacji zamówienia.
---
Standard
Standard
available to
Fri, 15 nov 2019 23:59
90 PLN
Sold out
---
Standard
Standard
available to
Sat, 16 nov 2019 17:00
95 PLN
Sold out
---
IMPERICON NEVER SAY DIE! TOUR 2019
Great American Ghost, Alpha Wolf, Polar, Our Hollow Our Home, King 810, In Hearts Wake, Crystal Lake

Harmonogram:
Drzwi: 17:00
GAG: 17:30
Alpha Wolf: 18:10
Polar: 18:55
OHOW: 19:40
King 810: 20:25
In Hearts Wake: 21:20
Crystal Lake: 22:15
Never Say Die! Tour powraca do Polski!
Trasa organizowana we współpracy z Impericonem kolejny rok podbije europejskie kluby. Tradycji stało się zadość i 16.11.2019 roku spotkamy się ponownie we wrocławskim klubie Pralnia. W tym roku o sile lineup'u stanowić będzie metalcore'owe objawienie z Japonii - CRYSTAL LAKE, a wraz z nimi australijskie IN HEARTS WAKE, długo wyczekiwani po raz pierwszy w Polsce KING 810 oraz OUR HOLLOW OUR HOME, POLAR, ALPHAWOLF I GREAT AMERICAN GHOST. Do zobaczenia pod sceną!
Zamów bilety już teraz na Biletomat.pl
Looking for similar events elsewhere? Check out the: Bilety Kolekcjonerskie Bilety na koncert: IMPERICON NEVER SAY DIE! TOUR 2019
---