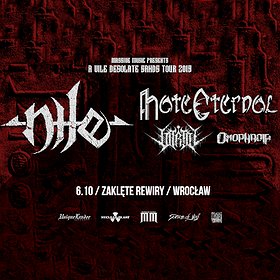 Tickets for Hard Rock / Metal
Nile, Hate Eternal + supports
date
Sun, 06 October 2019 time 18:30
venue
Zaklęte Rewiry
ul. Krakowska 100, 50-427 Wrocław
promotor
Tickets
Używasz Adblocka lub innej wtyczki mogącej blokować złożenie zamówienia. Jeśli napotkasz problemy wyłącz wtyczkę dla prawidłowej realizacji zamówienia.
---
Standard
I PULA
available to
Sat, 05 oct 2019 23:59
89 PLN
Sold out
---
Standard
II PULA
available to
Sun, 06 oct 2019 16:00
95 PLN
Sold out
---
Nile i Hate Eternal w Zaklętych Rewirach!
Nile, Hate Eternal, Vitriol, Omophagia
18:00 Wejście
18:30-19:00 Omophagia
19:15-19:55 Vitriol
20:15-21:15 Hate Eternal
21:45-22:55 Nile
Jeden z czołowych przedstawicieli amerykańskiego death metalu Nile oraz pochodzący z Florydy death metalowy Hate Eternal ruszają na jesień 2019 w wspólną europejską trasę promującą premierowe wydawnictwa. Trasa pod szyldem 'A Vile Desolate Sands Tour 2019' swój finał będzie miała we wrocławskim klubie Zaklęte Rewiry w dniu 6.10. Na rozgrzewkę wystartują Vitriol, Omophagia.
Zamów bilety już teraz na Biletomat.pl
Looking for similar events elsewhere? Check out the: Bilety Kolekcjonerskie
---