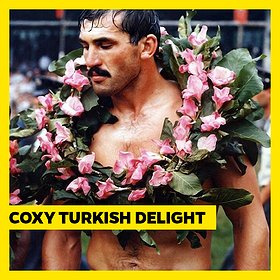 Tickets for clubbing
COXY // TURKISH DELIGHT
date
Sat, 14 May 2016 time 23:00
venue
Odessa
ul. Kolejowa 8/10, 01-210 Warszawa
promotor
Tickets
Używasz Adblocka lub innej wtyczki mogącej blokować złożenie zamówienia. Jeśli napotkasz problemy wyłącz wtyczkę dla prawidłowej realizacji zamówienia.
---
Standard
I pula
available to
Fri, 13 may 2016 00:21
20 PLN
Sold out
---
Standard
II pula
available to
Sat, 14 may 2016 16:00
30 PLN
Sold out
---
COXY WYRUSZA NA PODBÓJ AZJI MNIEJSZEJ!
MISTER SÜR
PIOTR BEJNAR
TRI TIME2PLAY
COXY WYRUSZA NA PODBÓJ AZJI MNIEJSZEJ!
TO BĘDZIE GORĄCA NOC, PODCZAS KTÓREJ OTWORZYMY OGRÓD, POCZĘSTUJEMY WAS SHISHĄ I ORIENTALNYMI NAPOJAMI. NIE ZABRAKNIE TURECKICH MELODII, KTÓRE POJAWIĄ SIĘ RÓWNIEŻ W SECIE NASZEGO HEADLINER'A, MISTER SÜR; ORAZ POLSKICH GWIAZD: PIOTRA BEJNARA I TRIA TIME2PLAY.
DAJCIE SIĘ PONIEŚĆ BAŚNI TEJ JEDNEJ NOCY W SAMYM SERCU WARSZAWY!
DRESS CODE: ORIENTALNE WZORY, KORALE, GWIAZDY, CZERWONE T-SHIRTY I TOPY.
---
GUYS, U'RE MOST WELCOME TO JOIN COXY TURKISH EDITION ON MAY, 14TH. WE'VE PREPARED CERTAIN ATTRACTIONS TO BRING ORIENTAL ATMOSPHERE TO THE CLUB IN THE HEART OF WARSAW.

DRESS CODE: ORIENTAL PRINTS & PATTERNS, BEADS, STARS, RED TOPS.
Zamów bilety już teraz na Biletomat.pl!
---